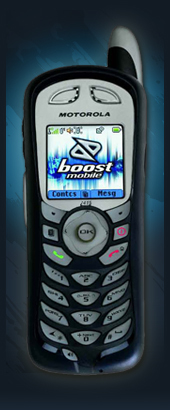 This phone from Boost Mobile is pretty nifty. It's anywhere between $30-$60 (depending on the promotion and store), runs J2ME Midlets, has an embedded GPS and can be used with a dirt-cheap prepaid data plan. Combined with the fact that it's a fairly ruggedized phone, it's ideal for all those things that most feature-rich (read: expensive) phones probably shouldn't go.
So while I'm still on T-Mobile as my primary provider for the time being (T-Mobile's EDGE at $20 on top of voice is still the best deal for mobile internet access that I could find and I use the voice service more than my inner-geek would like), the hardware and service has some real potential. Although their primary focus is your nearly broke youth/college student who is trying too hard to "be cool" (their slogan is "Where you at?", prominently displayed everywhere from their website to the splash screen on their handsets), their service is great for anyone wanting a service for light voice and moderate data use on the cheap.
There are a myriad of rules governing Boost's prepaid service, but it essentially comes down to $0.20/min for voice during peak and $0.10/min off-peak. Data is $0.20/day. While you have to pay a minimum of $20 every 90 days to keep the service active, data for that period could be a maximum of $18.60. That also includes 7-14 minutes to go with the data for every three months at $20. (Strangely enough after I put the $10 card on it, I somehow ended up with a $5 credit and then a $25 credit for a total of $35 in credits–I suppose they're running some kind of promotion right now.)
Boost mobile is remnant of pre-merger Nextel, so it's based off of Motorola's iDEN technology. This unfortunately caps data transfers to about 19.2 kbps when in packet mode, but that's okay for yanking RSS feeds and transmitting telemetry data using the on-board GPS for tracking. It's also relatively easy to load third party apps on the phone. (Unfortunately, that probably breaks their business model, since nearly all of the apps that they support loading on the handset have daily/monthly usage fees.)
Nevertheless, you can use Mologogo or AccuTracking for tracking a vehicle or what have you with the phone, browse the web with Opera Mini, or use Google Local Mobile to satisfy mobile map urges–nearly any app using J2ME. (Some apps have weird issues with button mappings)
I'm still experimenting with using it as a laptop tether, but when I pass it "S=2″ under windows, my machine gets assigned the same IP address for the host and gateway, one that is allocated to the US Defense Information Network to boot.
I'd try it under Mac OS X, but I'm going to have to fix up the script because it calls for putting "S=2″ in the phone number field and there is apparently some validation on that field in Tiger.
Update: Despite the fact the phone uses screwy IP addresses to talk to the gateway at Nextel, it does indeed work. I benchmarked it at dslreports.com/mspeed with the 600k file:
20 kbit/sec
1.961s latency
239.196s d/l time
It's nothing amazing, but not half bad for $6 a month.